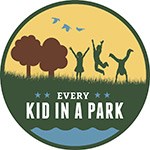 Calling all fourth graders. We need you!
Help us celebrate the National Park Service birthday as we turn 100 years old in 2016! We want everyone to learn about national parks, but this is a special opportunity for fourth graders to act as important ambassadors.
If you are 10 years old or in fourth grade, you can participate in a fun online activity and receive a free 4th Grade Annual Pass. Print out the pass and take it with you and your family to a national park, where you can serve as an ambassador and introduce your family to the National Park System. This program, called Every Kid in a Park, began on September 1, 2016, and runs until August 31, 2017. National parks and other federal lands and waters all across America are excited to share their heritage with young people.
We look forward to welcoming you!
For parents and teachers: how does it work?
Students must be able to print out the paper pass when they participate in the online activity; the activity cannot be saved and finished later. The paper pass will contain a unique serial number, which park staff will record upon arrival at a park entrance station or visitor center. The fourth grader must be present.
If you wish to exchange the paper pass for an attractive, keepsake 4th Grade Annual Pass, visit the Every Kid In a Park website to find a location near you. While this exchange is not mandatory, it is recommended. The 4th Grade Annual Pass is more durable and, to enter some federal lands and waters, the 4th Grade Annual Pass will need to be prominently displayed on the dashboard.
For more information about the program,
visit the Every Kid In a Park website
.