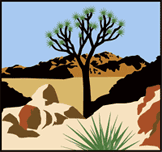 Mojave Desert Land Trust is a non-profit, charitable organization whose mission is to preserve large natural areas of the Mojave Desert by reducing the number of inholdings, which are privately-owned land parcels within park boundaries. Reducing inholdings and acquiring adjacent lands decreases fragmentation of park lands, preserves intact ecosystems, and provides more park land for visitors to enjoy.
After acquiring desert land parcels, the Trust organizes volunteers to remove debris and restore habitat, and then donates the land to the National Park Service. Since 2006, Mojave Desert Land Trust has acquired more than 26,000 acres within or adjacent to desert national parks—Joshua Tree National Park, Mojave National Preserve and Death Valley National Park.

The work of Mojave Desert Land Trust is accomplished through charitable contributions from those who share their vision of open, preserved desert space. Please visit their website to see how you can get involved in preserving and restoring our national park lands for future generations to enjoy.

Thanks for your support!