Benjamin Thaw (1859-1933)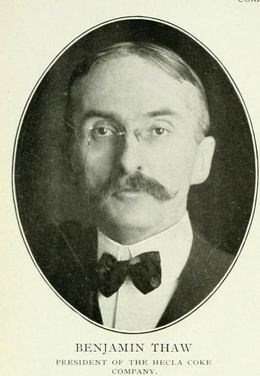 The Following is from the obituary for Benajamin Thaw, which appeared in the New York Times, August 20, 1933.

Private funeral services will be conducted this afternoon for Benjamin Thaw, Sr., 74, who died at his home in Morewood Place early yesterday after a protracted illness.He was the father of Colonel William Thaw, World War flying ace, and Lieutenant Alexander Blair Thaw, who was killed while serving in the American flying forces in August, 1918.

Mr. Thaw was born in Pittsburgh March 14, 1859, and lived practically all his life here, becoming a banker and philanthropist of note. His wife, the former, Elizabeth Dows of Cedar Rapids, Ia., died in Paris two years ago.He graduated from the Western University of Pennsylvania, now the University of Pittsburgh, after receiving his early education in the Fourth Ward public school. With his elder brother, William Thaw, Jr., he was one of the organizers of the Hecla Coke Company, which was absorbed by the H. C. Frick Coke Company in 1905.

He was a director of the First National Bank, a trustee of the University of Pittsburgh and a member of the Pennsylvania Historical Society. Also active in Y.M.C.A. work, he was treasurer of the board of trustees for many years.He was a member of the Duquesne Club, the Pittsburgh Athletic Club, the Automobile Club of America, the University Club of New York and the Graduate Club of New Haven.

Mr. Thaw is survived by two sons, Colonel Thaw and Benjamin Thaw, Jr.: a daughter, Mrs. Lawrence Slade; a brother, Dr. Alexander Blair Thaw; a sister, Mrs. William R. Thompson: two half-brothers, Harry K. Thaw and Josiah Copley Thaw, and two half-sisters, Countess Margaret De Perigny and Mrs. G. C. Whitney."

Of interest is that on June 24, 1906, his brother Harry shot a business nemesis. Harry was considered a black sheep of the family. Benjamin was ill at this time and was considered too ill to be informed of what had happen.
Benjamin Thaw was buried in Allegheny Cemetery.
Last updated: February 21, 2021