Lesson Plan
The South Fork Dam: A Guided Walk through the Ruins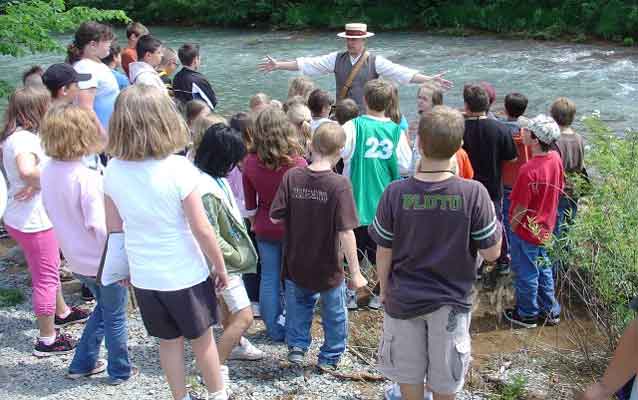 Subject:

Aquatic Studies, Earth Science, Engineering, Geography, History, Hydrology, Mathematics, Meteorology

Duration:

30 minutes

Group Size:

Up to 36

Setting:

in the park

National/State Standards:

Pennsylvania Standard 1.6.5
Pennsylvania Standard 7.4
Pennsylvania Standard 7.4.6
Overview
The students will take a ranger-led hike into the lakebed and walk through the ruins of the South Fork Dam.
Objective(s)
In addition to learning the history of what happened, students will utilize math skills to determine rate and flow speed of the waters coming from the broken South Fork Dam.
Background
A partnership was formed with the Johnstown Flood National Memorial and the Johnstown Area Heritage Association. Out of this partnership an interdisciplinary curriculum based prgoram about the Great Johnstown Flood of 1889 was created, which provides a complete educational experience telling the story of the Johnstown Flood. This program takes the student from the story's beginnings-the South Fork Dam and Clubhouse of the South Fork Fishing and Hunting Club to the story's end-disaster, relief and the rebuilding of the city of Johnstown, Pennsylvania.
Procedure
The students will be divided into groups of two. Each team will be given a timeline and map, pencil, highlighter, clipboard, and stopwatch. The teams will be told to start their watches and during the hike will be asked to stop the watch, record the time, and look on the map provided and estimate where the wave is along its 14 mile journey to Johnstown. The students will be stopped three times during the hike to record and estimate the path of the flood waters. At the end of the hike they will be asked to answer two questions:
1.) How long were the laborers working on the dam before it gave way?
2.) After Woodvale was destroyed how many minutes did it take before the wave reached Johnstown?
Last updated: February 26, 2015