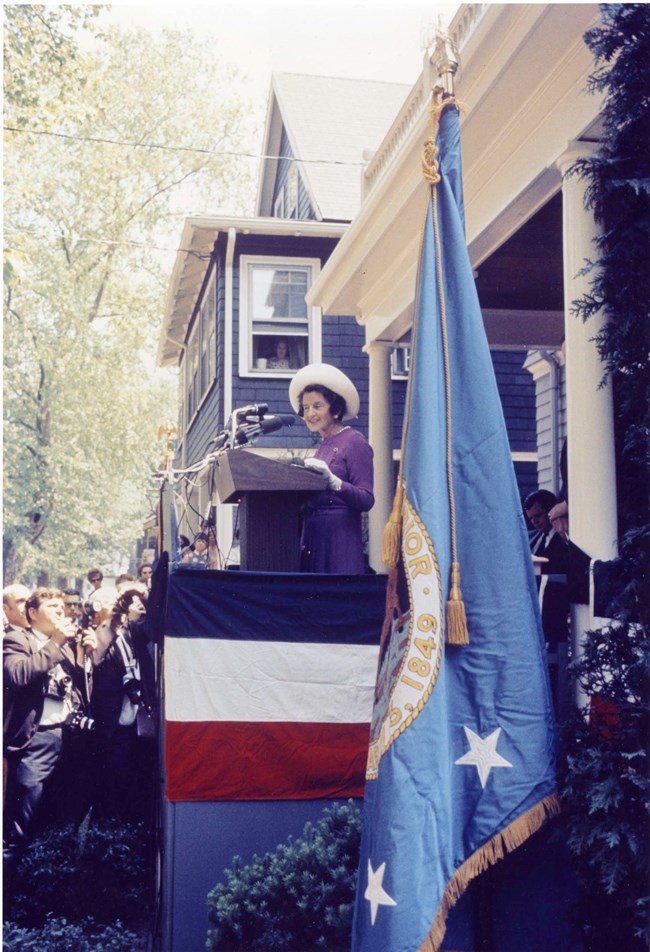 Come celebrate the birth of Mrs. Joseph P. Kennedy on July 22! In honor of the birthday of the president's mother, rangers will offer special talks and an afternoon walk, and a special exhibit about Mrs. Kennedy will be on display in the backyard all day. Tours of the home will be offered every half hour. There is no charge for this event. Please see below for a detailed schedule of events. Click here for a printable schedule.
Ranger Talk: A House of a Different Color-9:30am and 4:30pm
Join Ranger Sara to learn about how the exterior of the house has changed overtime and what this tells us about Mrs. Kennedy's process in recreating the birthplace of her son.
Ranger Talk: Commemorating Camelot-10:30am and 2:30pm
Join Ranger Heather in thinking about how three different Kennedy women-Mrs. Joseph P. Kennedy, Jackie Kennedy and Caroline Kennedy-have actively shaped the legacy of John F. Kennedy.
Ranger Talk: Mrs. Kennedy: a New Type of Politician-12:30 pm and 3:30pm
Learn about Mrs. Kennedy's role on the campaign trail for her sons Jack, Bobby and Edward with Ranger Kim.
Ranger Talk: Re-Making a Home for Americans: Mrs. Kennedy and 83 Beals Street-11:30am and 1:30pm
What does home mean? How do we use our homes to construct our identities? Join Ranger Steve as we explore these and other questions surrounding Mrs. Kennedy's recreation of this home at 83 Beals Street.
Neighborhood Walk: When All the World was New-1pm
Travel in the footsteps of the Kennedy family as we learn about what Brookline and Coolidge Corner was like in 1917. Join Ranger Sara for a stroll to important sites that would have been daily destinations for the family.