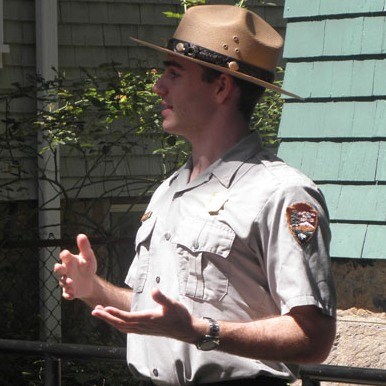 Join rangers in the backyard this summer for a series of talks to expand your knowledge of the Kennedy family! Topics from previous summers are lisited below; please check these pages or call our visitor center at 617-566-7937 in May from Summer 2013 schedules.
The Solace of Struggle: the Kennedys, competition, and the founding of the Special Olympics
The Olympics are upon us! Goodwill and high-spirited competitiveness are in the air! Join Ranger Steve to learn about the Kennedy family's involvement in the foundation of the Special Olympics and how athletics can be used to promote not only physical and mental health, but also inclusion, community, and social justice. This opportunity only comes once every four years!
Camelot Lives!
When Jack Kennedy was a boy, he loved adventure stories with noble heroes, particularly the tale of King Arthur and his mythical kingdom of Camelot. During his presidency he would strive to emulate the courage and diplomacy of King Arthur, and after his death the public would remember his administration as a modern-day Camelot. Join Ranger Heather to learn more about how our understanding of President Kennedy's life and legacy has been shaped by the Camelot myth through the commemorative work of his mother, wife, and daughter.
"There is No Right to Strike Against Public Safety"
In 1938 Joe Kennedy was an international figure who was shaping events at home and abroad. When he was living at 83 Beals Street, he was a young father and businessman attempting to assert his own identity and make sense of the world around him. Join Ranger Jon as we explore Joe Kennedy's response to an important event in both the history of Boston and the history of the nation: The Boston Police Strike of 1919.
A House of a Different Color
Change is in the air! Not only is 2012 a presidential election year, but big changes may also be coming to 83 Beals Street this fall. Recent research has taught us new things about Mrs. Kennedy in her role as political figure and creator of this site. Honoring Mrs. Kennedy's work has also challenged our assumptions about this site. Ranger Sara to learn about how the exterior of the house has changed overtime and what big changes might be coming to the house this fall
A Family Affair: Mrs. Kennedy's Political Work for her Sons
Election to public office was a family affair for the Kennedys, and each family member worked to turn their skills to Jack's advantage. For Mrs. Kennedy, that meant courting the women's vote through visits to women's clubs, society events and Kennedy Teas. Join Ranger Kim to learn about Mrs. Kennedy's campaign trail speeches.
Re-Making a Home for Americans: Mrs. Kennedy and 83 Beals Street
What does home mean? How do we use our homes to construct our identities? Join Ranger Steve as we explore these and other questions surrounding Mrs. Kennedy's recreation of this home at 83 Beals Street.
What If Rose Went to Wellesley?
Like many intelligent and ambitious young people, Rose Elizabeth Fitzgerald looked forward to attending college after graduating from high school in 1906. Her school of choice was Wellesley College, a prestigious liberal arts school for women, but her father disapproved of this choice because his own political aspirations and religious beliefs. Ultimately Rose did not attend Wellesley... but what if she had? Join Ranger Heather to answer this intriguing question.
A Firebomb in the Night
In 1975, unknown individuals threw a firebomb through the kitchen window of the John F. Kennedy National Historic Site, in response to Ted Kennedy's stance on school bussing. The fire destroyed the kitchen and also uncovered new secrets. Ranger Sara leads an exploration of the Kennedy kitchen through time and what it can tell us today about the Mrs. Kennedy's view of the past and her hopes for the future.