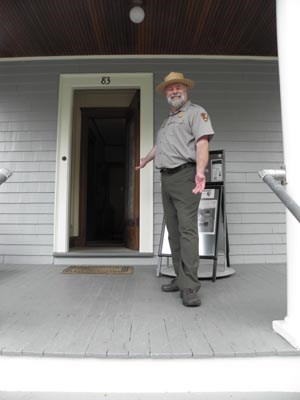 Join rangers for the opening of John Fitzgerald Kennedy National Historic Site's 46th summer season! Beginning May 23, a series of exciting events kick off the season.
May 23 formally opens the summer season. Ranger led house tours begin at 10:00am and are offered every half hour until 3:30pm. Self-guided tours are offered from 12-1pm and 4-5pm each day. Beginning May 30, visitors are invited join rangers for a daily neighborhood walk at 2:15pm.
During the weekend, May 29-31, the park will celebrate John F. Kennedy's birthday. Visitors are invited to join rangers for self guided tours from 9:30am-5pm and for a neighborhood walk each day at 2:15pm. And of course, there will be cake!
May 29 serves as the culmination for the education program, "What John F Kennedy Means to Me." For the past few months, Brookline Devotion School third graders have been researching and thinking hard about the nation's 35th president, born in their hometown. Following an exploration of the birthplace and neighborhood, as well as the John F Kennedy Presidential Library and Museum, these students have written essays and poems reflecting on Kennedy. During this special ceremony, a variety of speakers will recognize their efforts, as well as offering awards to the winning essays. Join us outside the home for the 10am ceremony and special look John F. Kennedy's legacy. Click here for information and photographs from past programs.
All events will be held rain or shine at the John Fitzgerald Kennedy National Historic Site, 83 Beals Street, Brookline, Massachusetts. For updates on events, please check our website and events calendar which will be updated regularly or call (617-566-7937) or email the site. We look forward to welcoming you to the birthplace of the 35th president this summer!