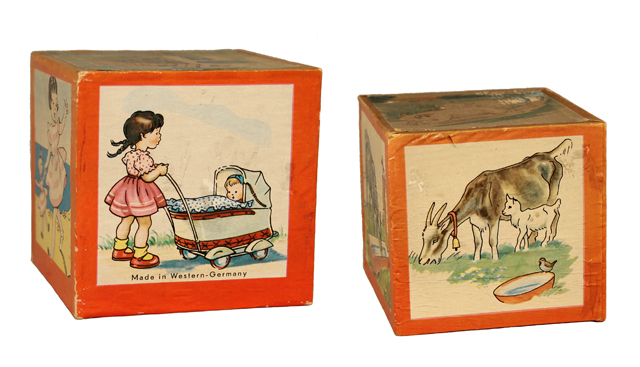 Among the toys in the nursery is a set of toy blocks, two of which are shown above. The entire set consists of nine pieces, with each block a different size so that it neatly fits into the next larger one. The blocks all have five sides (but for the smallest, which has six) covered with paper upon which are printed pictures of toys, animals, or simple household items.

Just as with the other toys found in the nursery, the blocks were not part of the house's contents when John F. Kennedy lived there, but were acquired during Mrs. Rose F. Kennedy's restoration efforts. It seems unlikely that any of the toys John F. Kennedy did have as a young child in Brookline would have survived to the present day, especially in light of the hard use they probably had at the hands of so many children. These blocks were purchased in 1967 from a general store in Vermont, but would have been subject to Mrs. Kennedy's approval before they were placed in the nursery for display.
Sharp-eyed observers may notice a detail on one of the blocks pictured above which gives clear evidence to the fact that these toys do not date to John F. Kennedy's childhood. In small print below the image of a young girl with a baby doll carriage are the words "MADE IN WESTERN- GERMANY". Such a label would not have been seen before 1949, the year that the Federal Republic of Germany, or West Germany as it was more popularly referred to by Americans, was created. Interestingly, the divide between East and West Germany, and that of Germany's primary city Berlin, would be the setting for one of President Kennedy's best known speeches, given in Berlin on June 26, 1963.