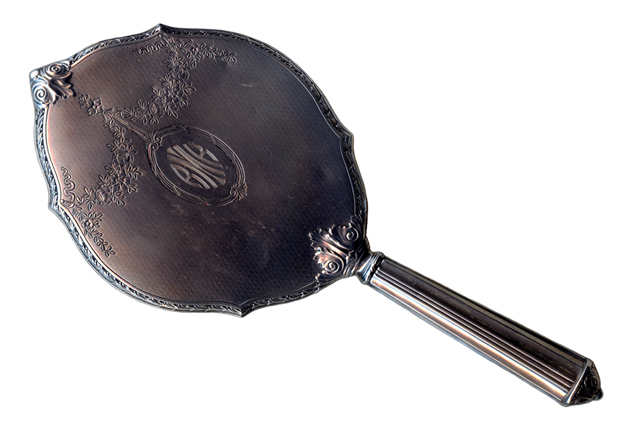 A sterling silver hand mirror with the monogram "RMK" is November's object of the month.  The design consists of a beveled mirror set in a roughly oval-shaped sterling silver backing with a fluted handle.  The back of the mirror is etched in an Adamesque style with a border of bell-flowers surrounding a central medallion containing the "RMK" monogram.

The mirror is believed to have belonged to Rosemary (Rose Marie) Kennedy. Rosemary was born on September 13, 1918 and was one of three Kennedy children born in the Beals Street house, her older brother Jack and younger sister Kathleen being the other two (oldest sibling Joe Jr. was born in Hull, Massachusetts). The piece is mentioned in a 1940 Kennedy family inventory of silver as "Mrs. Kennedy's toilet set – monogram R.M.K." Just why the piece is listed as belonging to Mrs. Kennedy instead of Rosemary is unknown. Rosemary never married, and in 1940 would have been 21- 22 years old.
Today the mirror can be seen among other pieces on a dressing table in the master bedroom at 83 Beals Street. It is one of many family items Rose Kennedy personally chose to use as part of the restoration of President Kennedy's birthplace.