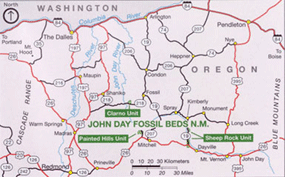 Gasoline
Oregon is a full-service only state, meaning that you are not permitted to pump your own gasoline. Due to this requirement, it can be difficult to impossible to buy gasoline in the evening or at night in the communities surrounding the monument. Fill up with gasoline before leaving major roads or communities if you will be traveling late.
The fuel station in Mitchell is for cardlock holders only. For all practical purposes, for most visitors, there is no fuel available on Highway 26 between Prineville and Dayville at any time of day. It is inadvisable to travel this stretch of road with under half a tank of fuel.
Distances
Driving distances from Oregon cities to the Sheep Rock Unit including the Thomas Condon Paleontology Center and museum, plus estimated travel times, are found below. Due to winding roads, travel times vary from those given by most mapping programs and GPS units.
Portland - 240 mi. (4 hours 30 minutes)
Bend - 122 mi. (2 hours 45 minutes)
Prineville - 80 mi. (2 hours)
Fossil - 63 mi. (1 hour 15 minutes)
John Day - 41 mi. (1 hour)
Mitchell - 35mi. (45 minutes)
Long Creek - 50 mi. (1 hour 15 minutes)
Burns - 110 mi. (2 hours 15 minutes)
Driving distances between units:
Sheep Rock to Painted Hills - 45 mi. (1 hour)
Painted Hills Unit to Clarno Unit - 75 mi. (1 hour 30 minutes)
Clarno Unit to Sheep Rock Unit - 81 mi. (2 hours)
Road Conditions

Oregon
(800) 977-6368

Washington
(800) 695-7623

Idaho
(888) 432-7623

California
(800) 427-7623

Nevada
(877) 687-6237

Montana
(800) 226-7623