Thomas Condon Paleontology and Visitor Center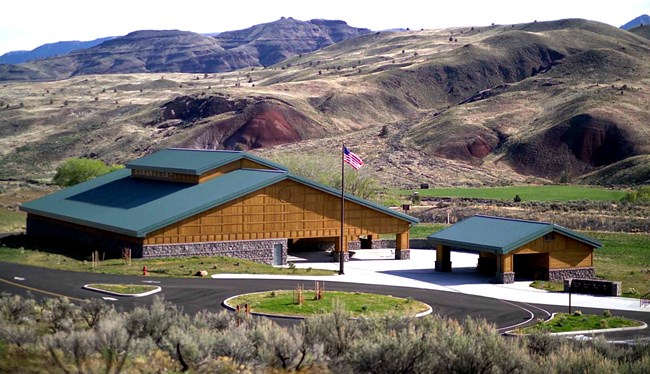 In 2005, the state of the art Thomas Condon Paleontology Center opened to the public. Named after the prominent 19th-century Oregon scientist who first recognized the significance of the fossil beds and did the first scientific collection and study of specimens, the 11,000 square foot center greatly improved the monument's ability to serve both the public and the scientific community. Performing a dual purpose, the Thomas Condon Paleontology and Visitor Center is dedicated to the study and public understanding of the paleontological resources of the John Day region. Colorful murals, fossil displays, and a fishbowl paleontology laboratory are some of the main features for visitors to enjoy.
What can you do at the Center?
Before you visit, know the Operating Hours of the center. While you are there, enjoy the 18-minute park orientation film and browse through the Discover Your Northwest Bookstore. Our exhibits display over 500 fossil specimens from the John Day Fossil Beds. Scientifically accurate murals depict the environments in which these plants and animals lived. Speakers in the exhibits provide an audio representation of these extinct species may have sounded like. Viewing windows into the laboratory and collections area allow the public to watch scientists actively studying fossils. (You can also watch our paleo cam on our webcams page.)
Where is it Located?
The Center is located in the
Sheep Rock Unit
of John Day Fossil Beds at 32651 Highway 19, Kimberly, OR 97848. It is approximately 8 miles northwest of the town of Dayville, Oregon and 19 miles south of the town of Kimberly, Oregon. Please visit the photo galleries below to see more pictures from the Thomas Condon Paleontology Center.
Photo Albums of the Paleontogy Center, Including Exhibits
Webcam
Science takes center stage at John Day Fossil Beds National Monument. Our Paleontology Lab Cam allows you to watch our paleontologists remove rock from around fossils. Sometimes there are other tasks to do, but when they are working on other projects, they usually leave a fossil that they have been working on in the camera's field of view. The lights usually come on at 9am Pacific and go out at 5pm Pacific. This camera refreshes every 20 seconds.
View Webcam
Status: Inactive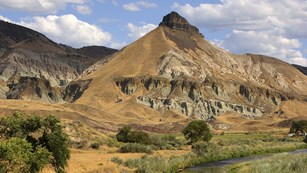 Sheep Rock Unit
Home to the Thomas Condon Paleontology Center and the Cant Ranch Museum, the Sheep Rock Unit also has many trails and scenic views.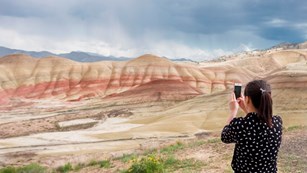 Painted Hills Unit
The colorful stripes and gentle ripples of the Painted Hills makes it one of the most popular destinations in the park.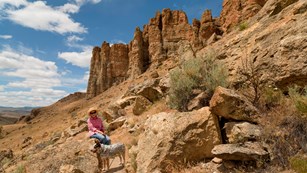 Clarno Unit
The Clarno Unit is home to the oldest exposed layers of the John Day Fossil Beds, and the only place in the monument to see "wild" fossils.
Last updated: September 23, 2021