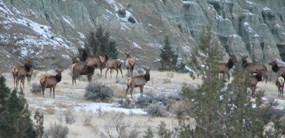 With over 40 million years of fossili history related to the evolution of mammals in the region, there are many mammals to see at John Day Fossil Beds. It's just that most of them have been dead for a very long time, and are on display inside the Thomas Condon Paleontology Center.
We do have live animals as well, and they are what you are more likely to see while exploring the monument's trail system. Seeing the tracks of a cougar that has crossed a hiking trail, or hearing the excited yips of a successful coyote pack on a hunt can be thrilling or frightening. With the John Day River, Rock Creek, and Bridge Creek flowing through the monument's boundaries, the chance to see the mammals tied to these lifelines are varied and many.
Gophers and ground squirrels thrive around the 3 units of the monument, making it possible to see the frenzied digging of a badger in pursuit of a meal. Sitting quietly along the John Day River may be rewarded by the sighting of a beaver or river otter swimming by, or a mink or raccoon hunting along the bank. Deer, antelope, and elk forage in the fields and along the ridges.
During the summer evening hours, bats commonly leave their roosts in the buildings, cracks, and caves to feed on insects overhead. The hay meadows and sagebrush covered hills support thriving populations of voles, mice, and rabbits, which then in turn are a major prey base for the many predators such as hawks, bobcats, and eagles.