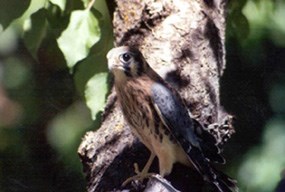 Many species of birds have been seen at the monument. Some of these are permanent residents, but many are migratory. Sightings of red-tailed hawks, American kestrels, and an occasional turkey vulture or prairie falcon are common in the summer.
Great horned and western screech owls, along with common nighthawks, hunt at night. Bald eagles move into the valley during the winter to hunt along the John Day River. Great blue herons reside here year round.
Occasional flocks of sandhill cranes or swans will be seen flying overhead on their yearly migration.
California quail are commonly seen near fields, while the call of chukars are often heard as they move up and down the hillsides. Mourning doves feed on the abundant seeds along the river while they make their sad call.
Visitors heading up one of the many trails in the monument may be welcomed by the call of a canyon wren, mountain chickadee, or lark sparrow. Stops at Goose Rock or the Clarno Palisades may be rewarded with an aerial show by violet-green, barn, or cliff swallows.