Painted Hills Pals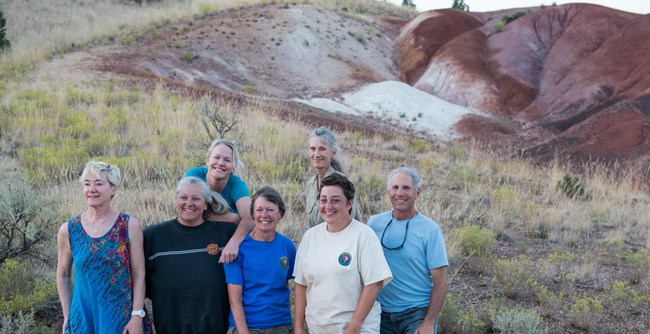 Volunteer Recruitment Postponed for 2020
We are not recruiting for volunteers this year. Please check back in the spring of 2022.
Help Keep the Painted Hills Amazing
Do you want to help people while protecting your national park?
Do you like to be outside?
We need you to join the Painted Hills Pals!
Join the Painted Hills Pals Volunteer Group
Have a positive impact at your local national park. John Day Fossil Beds National Monument is recruiting community volunteers to become members of the Painted Hills Pals. The park is seeking summer volunteers who want to help keep Painted Hills beautiful by providing visitor assistance, spending time outside, and/or hiking trails.

Volunteer Job Duties
The volunteer may hike trails and other outdoor visitor areas to make contact with visitors and check on trails, exhibits, and facilities. The volunteer will wear identification as a volunteer for the National Park Service. When you volunteer, you can make positive contributions to your public lands while applying your skills and gaining valuable experiences. This is a short-term volunteer position. We are seeking volunteers to work with the park for at least two days this summer.
Qualifications
The volunteer must be at least 16 years old and enjoy interacting with people. All volunteers must be good representatives of the National Park Service. Volunteers must attend one of the training days before they can volunteer.
Time Commitment
The volunteer's service time and schedule will be agreed upon between the volunteer and his/her supervisor. We need volunteers to work at least two work shifts (10 to 2 or 2 to 6) on either a Friday, Saturday, or Sunday from Memorial Day through Labor Day.
Training and Benefits
All Painted Hills Pals Volunteer will take four hours of orientation training on the history and mission of the National Park Service and John Day Fossil Beds National Monument, and the interpretive themes of the monument. Training will occur at the Painted Hills Unit. No park housing is available.
Last updated: September 30, 2021