Fees & Reservations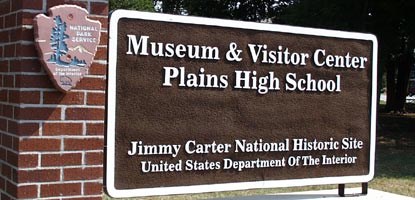 Fees
Entrance to the historic site is free. There are no parking fees. A donation box is available at the Plains High School Museum/Visitor Center.
Reservations
Interested in bringing a church, civic, social or other organized group to the Jimmy Carter National Historic Site? Guides and demonstrators may be available to address your group upon your request. Availability is dependent upon current staffing and the season. Two weeks advance notice of your group's arrival is appreciated and will ensure a better experience for your group. Park staff is available to help you plan your visit to the site. Please contact us with your group's name, tour date, group size and expected arrival time. We look forward to seeing you in Plains! Our number is (229) 824-4104.
Special Use Permits
Special Use Permits are required for all activities outside of normal visitor use. Activities could include the use of the park facilities or property for organized meetings, family reunions or commercial filming. Special Use Permits are issued at the Superintendent's discretion and an application process is required. Requests may be denied due to lack of sufficient time to process the request or due to the events impacts on park resources. A fee may be required for processing the application.
Additional fees may be required to reimburse the NationalPark Service for expenses incurred as a result of supervising the permit. Fees for Special Use Permits, when applicable, must be paid before the special use,event, assembly, or meeting.
A special park use is defined as a short-term activity thattakes place in a park area, and that:
Provides a benefit to an individual, group, or organizationrather than the public at large;
Requires written authorization and some degree of managementcontrol from the National Park Service (NPS) in order to protect park resourcesand the public interest;
Is not prohibited by law or regulation;is not initiated,sponsored, or conducted by the NPS;and is not managed under a concessioncontract, a recreation activity for which the NPS charges a fee, or a lease.


Last updated: March 17, 2016