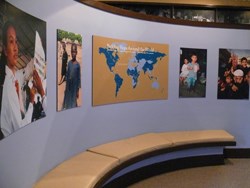 The Jimmy Carter National Historic site takes this opportunity to alert our visitors that renovations on ERA III are now completed and is open for the public.
The new exhibits focuses more on the Carter's lives after coming home to Plains, Georgia after the White House years. The work that they do around the world through the Carter Center are highlighted within the exhibits. Working to assist farmers in struggling parts of the world develop better farming practices, their fight to rid the world of Guinea Worm Disease and monitoring elections around the world.
For more information, check out the Carter Center website.