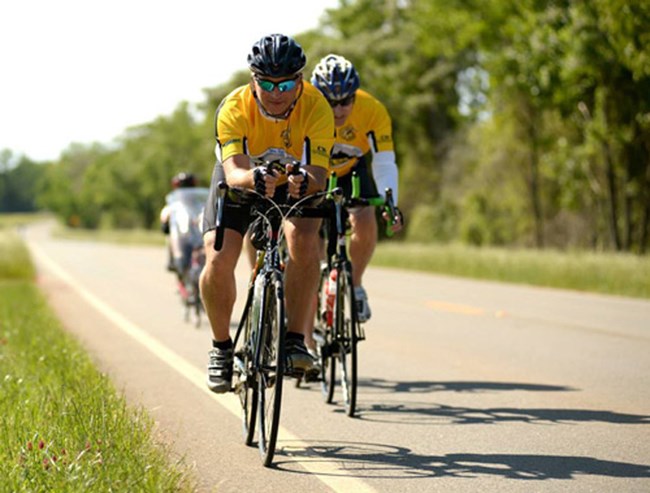 Jimmy Carter National Historic Site and Andersonville National Historic Site will celebrate their "Find Your Park" centennial event during the weekend of August 28-30, 2015, with a two-day bike ride through both national parks and three state parks.
"The "Find Your Park" Centennial Bike Ride is an open invitation to the public to experience our park, programs, and public lands in many different ways, including on a bike," said JCNHS Superintendent Barbara Judy.
Through partnerships with River Valley Regional Commission (RVRC), Sumter Cycling, SAM Shortline, and the Georgia Department of Natural Resources, the National Park Service will host the bike ride through Jimmy Carter National Historic site, Andersonville National Historic Site, Florence Marina State Park, Providence Canyon State Park, Georgia Veterans State Park, and a ride on the SAM Shortline Excursion Train.
The first day of the ride is approximately 51 miles long, with the second day's ride being approximately 53 miles long. Registration, route maps, and the itinerary for the ride are available online at www.findyourparkride.org. Activities are also offered for non-cycling family and friends of participating cyclists who would like to visit the parks and ride the train. More information about these activities is available on the Find Your Park Ride website.
Camping on Friday night at Florence Marina and Saturday night at Georgia Veterans State Park is included in the registration cost. Riders wishing to make other arrangements for lodging should make their own reservations. Florence Marina State Park has rental cottages available. Reservations may be made by calling the park at (229) 838-4244; riders should indicate that they are participating in the Find Your Park Bike Ride when making reservations. Lodging reservations for Lake Blackshear Resort at Georgia Veterans State Park should be made by calling (229) 401-1222, ask to speak with Kathy and tell her you are with the Find Your Park Bike Ride.
For more information about the Find Your Park Centennial Bike Ride, contact Mia Anderson at manderson@rivervalleyrc.org or call (706) 256-2910.