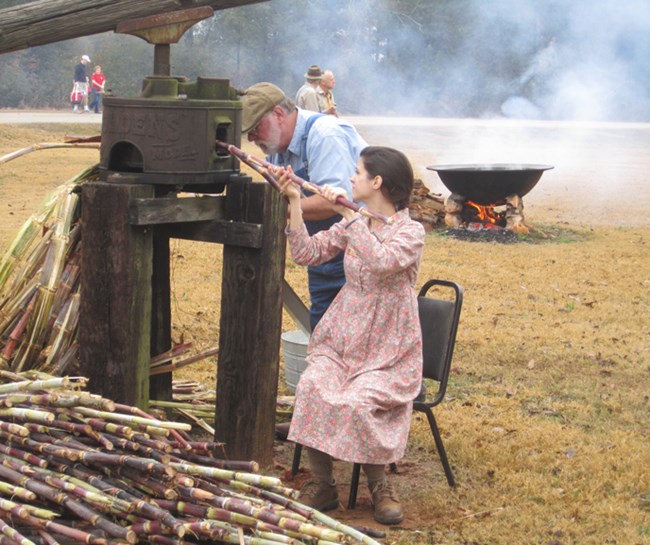 Jimmy Carter National Historic Site is pleased to announce the celebration of
Cane Syrup Day, Saturday, November 22, 2014. Demonstrations will be presented throughout the day between 10:00 am to 3:00 pm. This event will highlight cane syrup making in the "good old days". Demonstrations will include cane stripping, cane squeezing, syrup making, corn shelling, and blacksmithing. Also, members from the Southwest Georgia Tractor Club and the Pike County Tractor and Engine Club will have antique tractors and engines on display. Representatives from the National Railcar Association will be showing antique rail inspection cars. Visitors to the Jimmy Carter Boyhood Farm will enjoy watching the park staff feed the freshly cut sugar cane into the mule driven cane press. In the press, the cane is passed through rollers to extract the juice.
President Carter wrote about how sugar cane was turned into syrup on his father's farm in his book An Hour Before Daylight. President Carter's childhood memories are kept alive through living history demonstrations on the Boyhood Farm.
Make plans to visit the boyhood farm at Jimmy Carter National Historic Site for Cane Syrup Day and experience what life was like in the 1930's.