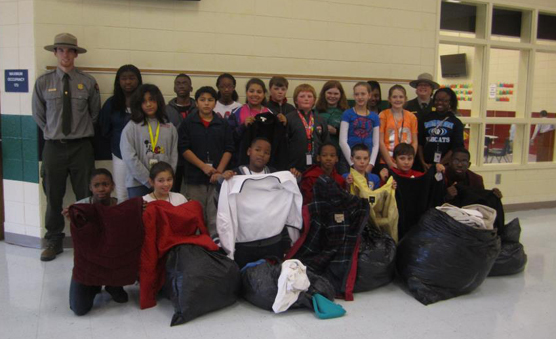 News Release Date:
January 15, 2013
Contact: Ian Pierson, 229-824-4104 ext. 48
Contact: Patty Kuehn, 229-824-4104 ext. 40
The Jimmy Carter National Historic Site sponsored their 2nd Annual Coat Drive this winter. Two years ago, rangers on staff noticed many school children coming during the late fall and winter months without coats; seeing a need, it was agreed upon that they were in a position to help and sponsored a coat drive. This year barrels were set out at Central Baptist Church and First Baptist Church in Americus, and the Buffalo Café and the Plains High School in Plains. In all 154 coats and 22 sock hats were delivered this year, far surpassing last year's total of 53 coats.
"We were thrilled with the outcome of this year's drive. It so far exceeded our expectations that we were able to give coats to two school systems; half went to Sumter County Schools and half went to Webster County Schools. Both school systems seemed thrilled to be able to take part in this process." said Ranger Pierson.
The park staff would like to thank all those who participated in donating and advertising this event.