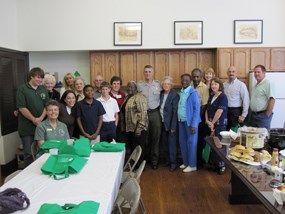 The staff of the Jimmy Carter National Historic showed their appreciation by honoring some very special VIP's on November 3, 2009. The Volunteers-In-Parks (VIP) program has grown over the years to show the dedication and commitment of people throughout the United States and the world to our national parks. Volunteers range in age from young children to senior citizens and come from all over the United States and the world, from different ethnic and social backgrounds. These volunteers use their talents, skills and the differences in their backgrounds to enrich the park experience for the visitors.
The number of volunteers in the National Park Service has increase by over 100,000 since 1990, with more than 370 NPS areas currently using VIP's. The VIP's at the Jimmy Carter National Historic Site have put in their share of volunteer hours (1554) by participating in numerous activities throughout the year. The volunteers gave demonstrations at the Boyhood Farm, worked the front desk at the Plains High School and assisted in various administrative duties for the park.
There are more than 390 national parks throughout the Unites States and its territories that need volunteers to work side-by-side with National Park Service employees and partners. Whether it is working behind the scenes or with park visitors, in parks from Maine to Hawaii, or Alaska to Florida, in big cities, small towns or wilderness areas, volunteers make a difference in helping people connect with their parks.
For more information on the VIP program, please visit
www.nps.gov/volunteer
. You may also call the site at (229) 824-4104. Become a VIP and Experience Your America.