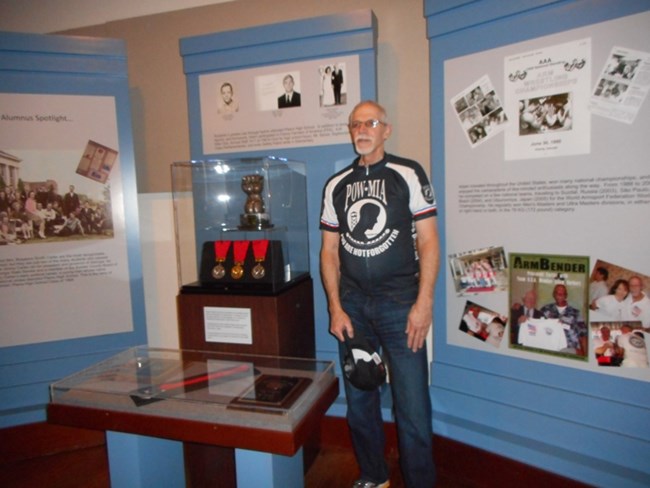 In the month of December 2014, the Jimmy Carter National Historic Site (JCNHS) unveiled an exhibit highlighting the accomplishments of Valentine (Val) Adam Gerbert, Plains High School (PHS) class of 1968. This exhibit seeks to not only highlight Gerbert's accomplishments and passion for his craft, but also to encourage a better understanding of the history of PHS and the diversity of its alumni. The Jimmy Carter National Historic Site mission includes the preservation and interpretation of Plains High School.
As a young man growing up in Plains, Georgia, Gerbert developed a passion for arm wrestling which eventually set him on the path to engage in various world-wide and national competitions. As a professional competitive arm wrestler, Gerbert has struck a path for victory, having placed second in the World Championships twice, as well as, receiving various other awards. Gerbert has graciously allowed the JCNHS the opportunity to display a diverse sampling of his awards. Visitors to PHS may view the exhibit located at the back of the auditorium.
The staff of the JCNHS had the pleasure of meeting Gerbert, along with his family and friends, during a special exhibit unveiling on December 26. The staff is excited to take part in spotlighting Gerbert's success and would like to welcome the public to share in our enthusiasm.