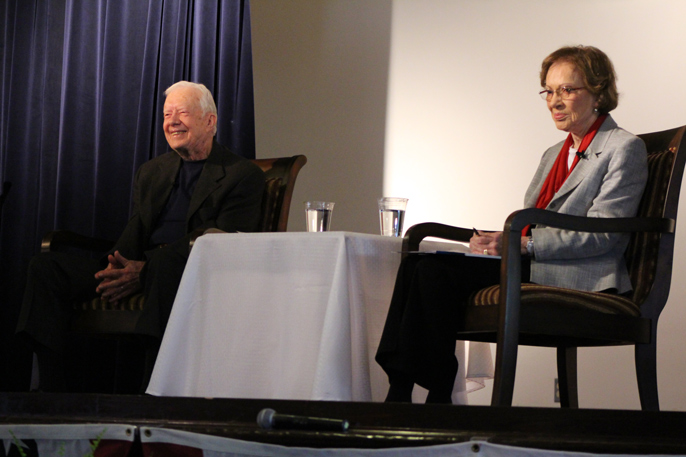 News Release Date:
February 19, 2015
Contact: Steve Theus, 229-824-4104
In recognition of Presidents' Day, the Jimmy Carter National Historic Site hosted its annual President's Day Celebration. What better way to celebrate the impact and lasting of America's presidents than spending Presidents' Day with a former President and First Lady of the United States? The staff of the JCNHS extended a warm welcome to encourage the public and students to attend the celebration to hear President and Mrs. Carter speak on their experiences with public service during their term in the presidency.
They were joined by more than 400 visitors and students in the Plains High School Auditorium as they spoke on the legacy that they hope will inspire others to become the next generation of America's leaders. In an effort to further engage the public, the celebration was not only seen at the JCNHS, but it was seen by students in Kansas. A group of eighth grade students from Royal Valley Middle School traveled to Brown v. Board of Education NHS to participate in the program. The students were able to participate via a live stream of the program and they were also encouraged to participate in the Q&A session.
Please be sure to check for upcoming events at our website and also, join our online family by following us on Facebook, Twitter, and Instagram.