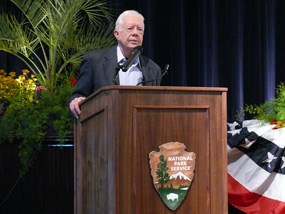 What better way to celebrate Presidents' Day than with a visit from a former President of the United States. The staff of the Jimmy Carter National Historic Site is honored to host a Presidents' Day Celebration on February 21, 2011 at 11:30am at the Plains High School Museum.
Dr. Jason Berggen, Department of History and Political Science at Georgia Southwestern State University, will speak on the significance of Presidents' Day and our most influential presidents. Following Dr. Berggen's presentation, former President Jimmy Carter will speak on the Carter Presidency's greatest moments followed by a short question and answer session.
Immediately following his lecture, President Carter will be available to autograph books that he has authored with a limit of three books per visitor. Due to time constraints, he will not be able to personalize or autograph any other items such as photographs. Visitors will be able to purchase books at the Eastern National Bookstore located inside the Plains High School Museum.
The Plains Depot will also be open on Presidents' Day. It served as the 1976 Presidential Campaign Headquarters and highlights President Carter's political campaigns. Likewise, the Jimmy Carter Boyhood Farm will also be open to the public. Visitors may experience a bit of nostalgia and learn about life in the 1930's by visiting President Carter's boyhood home and farm.