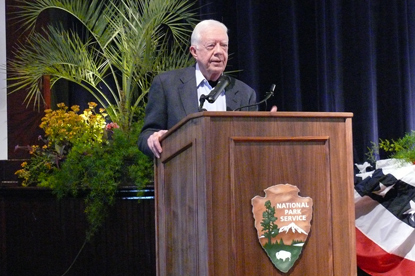 News Release Date:
February 13, 2017
Contact: Kevin Alexander, 229-376-0476
Due to a change in schedule, former President Jimmy Carter and First Lady Rosalynn Carter will be celebrating Presidents' Day on Monday, February 20
th
at Jimmy Carter National Historic Site. Beginning at 11:00 a.m. President and Mrs. Carter will share with the audience their personal experiences pertaining to the Camp David Accords. The program will take place in the auditorium of Plains High School located at 300 North Bond Street, Plains, Georgia 31780.                                            
Seating will begin at 10:00 a.m., on a first come first served basis; no reservations will be accepted. Afterwards there will be special book signings by President Carter and the First Lady. Due to time constraints each visitor will be able to have a maximum of two books signed, and all books must be authored by President Carter and/or First Lady Carter.  The Eastern National Bookstore will have a wide selection of authored books available for quick purchase.  
For classrooms that would like to connect to this event via distance learning the link is 
http://carter.internet2.edu/
Visitors are also encouraged to visit the Jimmy Carter National Historic Site on Sunday, February 19
th
. Dr. Larry Cook will be presenting his lecture, "Little Known Facts and Personal Stories of our Avid Fishermen Presidents" which will take place in the Plains High School auditorium at 1:30 p.m. After the lecture Dr. Cook will be available to sign his book "Presidential Coincidences, Amazing Facts and Collectibles." Copies will be available for purchase in the Eastern National Bookstore at Plains High School. Dr. Cook is a lifelong collector of presidential memorabilia and a presidential historian specializing in little known facts and the personal side of the presidency.    
Both events are free and open to the public.  
The Plains Depot will also be open on Presidents' Day. The Plains Depot served as the 1976 Presidential Campaign Headquarters and highlights President Carter's political campaign. Likewise, the Jimmy Carter Boyhood Farm will also be open on Presidents' Day. Visitors can experience a bit of nostalgia and learn about life in the 1930's by visiting President Carter's childhood home and farm.