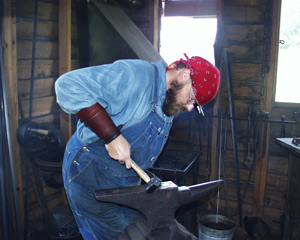 News Release Date:
April 13, 2014
Contact: Steve Theus, (229) 824-4104
Contact: Kevin Alexander, (229) 824-4104
Contact: Randy Dillard, (229) 824-4104
Old Time Farm Day will be held Saturday, May 3 from 10:30a.m. to 3p.m. at the Jimmy Carter Boyhood Farm located in Archery, Georgia, just west of Plains. This special event which is free to the public highlights farm life in the "good ol' days." Demonstrations will include plowing with mules, crosscut saw demonstrations, blacksmithing and peanut boiling. 
President Carter wrote about his father's mules in his book, An Hour Before Daylight. He wrote fondly of his ambition to solo plow in his family's garden. He wrote, "After several years of begging, I finally had my first real lesson in solo plowing in our home garden, when it was time to turn under about half the patch so it could be replanted. I wanted to do everything by myself, so Jack Clark let me go into the barn lot and catch Emma, the most docile and well-tempered mule, hitch her to a simple turning plow, and direct her to the garden gate with shouts and tugs on the plowlines. It was very difficult for me to push down on the handles so the point of the plow wouldn't dig into the pathway. With Jack's fine adjustment of the clevis hitch, the plow's natural course was an even depth, and after the first furrow was turned around the plot, I found Emma simply walked steadily forward in the proper direction, stopping to be turned at each corner. I've rarely had a more satisfying experience."
Make plans to visit the boyhood farm at Jimmy Carter National Historic Site for Old Time Farm Day. You may check on upcoming farm events at: www.nps.gov/jica and for school trip information and reservations, please visit: www.jimmycarter.info or call the historic site at (229) 824-4104 for more information. There is no charge to visit the Jimmy Carter National Historic Site.