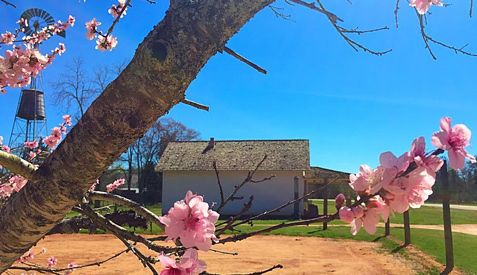 News Release Date:
April 19, 2015
Contact: Steve Theus, 229-824-4104
Have you ever wished you could just go back in time? Perhaps you've imagined transporting yourself back to ancient Egypt, or the Roman Empire. Maybe to Imperial China, the Ottoman Empire, or Renaissance Europe? Unfortunately, we at the Jimmy Carter National Historic Site (JCNHS) can't help you with this level of time travel. However, we can transport you back to Archery, Georgia circa 1937! The staff of the JCNHS would like to welcome you to join us for Old Farm Day on Saturday, May 2, 2015. From 10am to 3pm, you will be transported back in time to the playground and residence of a young Jimmy Carter.
This special event, which is free and open to the public, highlights farm life on the Carter farm prior to the purchase of their first tractor during World War II. Visitors will be able to witness demonstrations which will give them a greater understanding and appreciation for the farming days of old. Demonstrations will include plowing with the site's two mules, sisters Belle and Bird, blacksmithing by Ranger Kevin Alexander, and peanut boiling, a task a young Jimmy Carter would have undertaken as a means to supplement his income as a young boy.
Visitors are encouraged to embrace the day's festivities as they walk along paths a young Jimmy would have traversed. Guests are encouraged to listen to the sounds of the natural world which surrounds them as they make their way around the miniature version of the original Carter Farm. Listen as the wind whistles through Miss Lillian's Pecan Orchard, or as the fire crackles beneath the boiling peanuts. Imagine the sound of a screen door slamming shut behind a young Jimmy heading back into the fields to work, or the humming of Mrs. Rachel Clark as she sweeps her yard. Let your imagination escape you as the pounding of Ranger Kevin's hammer transforms instead into Mr. Earl hard at work making shoes for the animals. Let your imagination run wild at our Old Farm Day.