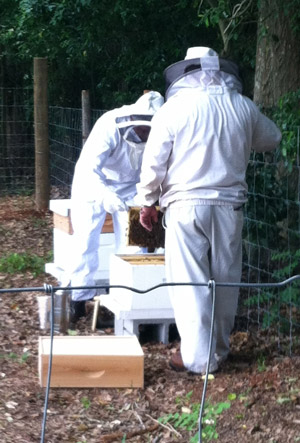 News Release Date:
July 28, 2014
Contact: Randy Dillard, (229) 824-4104 ext. 46
Contact: Steve Theus, (229) 824-4104 ext. 42
August 16, 2014 is National Honey Bee Day, and the Jimmy Carter National Historic Site will be hosting programs that day at 11 AM, and 2 PM at the Jimmy Carter Boyhood Farm located on Old Plains Highway. Recently, the Jimmy Carter NHS added honey bee hives to the farm. In his book, An Hour Before Daylight, President Carter states, "One important source of income was high-quality honey, which we sold either in the comb or centrifuged to extract the pure nectar." He also says, "Daddy maintained about two dozen hives, and we processed the honey, consumed what we needed for our family, and sold the rest."
Programs on August 16, 2014 will offer information about basic bee keeping, and how to start your own hives. An observation hive will also be present, so you can see how honey bees work. The programs will be presented by DeWayne Pitts of Americus, who is assisting the Jimmy Carter NHS with our hives, Jessie McCurdy of Perry, Ga., who has over 30 years' experience in keeping honey bees, and Tim Smith, who is the current president of the Heart of Georgia Beekeeper's Association.
The public is invited to join us for these free programs about honey bees. We hope to see you on August 16, 2014 for National Honey Bee Day!