Date:
March 21, 2014
Contact:
Steve Theus
, (229) 824-4104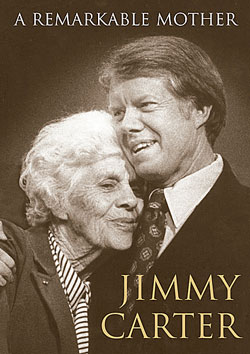 March is National Women's History Month and what an honor it is to pay tribute to the accomplishments of great women from all walks of life. From the homemaker to the CEO's to the political arena, women have made great strides to help build this nation.
  
  
The Plains Historical Preservation Trust has commissioned a play about Miss Lillian Carter, "Miss Lillian", as she was known by many. The play is based on research conducted by Annette Wise and Kim Fuller that includes oral histories, letters written by Lillian Carter and other family members, television interviews and books written by Jimmy Carter, Rosalynn Carter, Hugh Carter, Lillian Carter and Gloria Carter Spann.Kim Fuller has used this research to craft a play which reflects the life of Lillian Carter.
  
Lillian Carter, mother of former President Jimmy Carter, had a tremendous impact on her family and others in the community. As a nurse in Plains, she touched the lives of many people, often providing health care for those who were unable to pay for medical attention. Her nursing skills would eventually carry her to India as a Peace Corps volunteer.
  

The play begins with Kim Fuller as her grandmother reminiscing of earlier years as she searches for a book in the Carter Pond House attic. The play takes the audience through the life of Lillian Carter as a young nurse trainee at Wise Sanatorium in the 1920s through the changes she endured through the mid-1970s. As the story unfolds, you learn of Miss Lillian's love for nursing and her unique ability to help others in need as well as her love for her family. The life of this remarkable woman is told through dramatic presentation as the viewer learns of some of the hardships as well as the joys of Lillian Carter's life.
Lillian Gordy Carter: The Play will be presented in partnership with the Jimmy Carter National Historic Site, the Plains Historical Preservation Trust and the Plains Better Hometown Program, on March 29, 2014, at 6pm at the Plains High School auditorium a part of the Jimmy Carter National Historic Site in Plains, Georgia. There is no admission fee for the play and there will be light refreshments provided. President Jimmy Carter's new book, A Call To Action: Women, Religion, Violence, and Power, will be available for purchase in the bookstore of the museum. We invite everyone to come out and learn about this great woman, leader, trailblazer and mother of the 39th President of the United States.