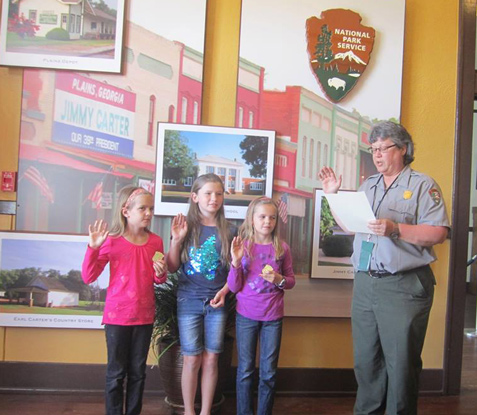 News Release Date:
March 19, 2015
Contact: Steve Theus, 229-824-4104
Contact: Gabe Laster, 229-824-4104
Looking to find a fun and exciting way to get you child interested in America's National Parks? Would you like to inspire in your little one a respect for America's past and natural environment so that they may become more invested in helping create a better future? The staff of the Jimmy Carter National Historic site (JCNHS) has an answer for you. junior Ranger Day! Not only is this the perfect way to kick start our National Park Service Week-long extravaganza, but it's a day completely devoted to your little ones. Junior Ranger Day seeks to encourage America's youth to become engaged and actively involves in exploring and preserving America's past, present, and future through the National Park Service.
Since the first Junior Ranger Day was held in 2007, is has provided families with the opportunity to experience America's National Parks in an unique and kid-friendly way. The staff at the JCNHS would like to invite you to join us on April 18, 2015, as we celebrate a necessary and important part of our National Parks, our Junior Rangers. Those wishing to participate in the day's festivities should first pick up a Junior Ranger Book from the park ranger or volunteer at the front desk at Plains High School (PHS).The Junior Ranger Book is full of information to encourage children to learn more about our 39th President, PHS, the Jimmy Carter Boyhood Farm, as well as the Plains Depot, which served as his 1976 Campaign Headquarters. Upon completion of the Junior Ranger Book, participants will receive a bag full of surprises and register for the Grand Prize to be chosen on April 26, 2015. The participant will also be sworn-in as a Junior Ranger, which is a wonderful photo opportunity for the family.
As part of National Park Service Week, starting on April 18, 2015, all children who visit the Boyhood Farm will have the opportunity to make a pine cone bird feeder. With Spring coming, the birds will just love them.
We hope to meet you there and until the abide by the Junior Ranger Motto: "Explore, Learn, and Protect."