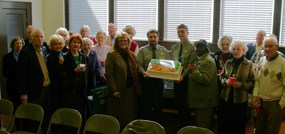 Celebrating Inaugurations- Past and Present

The staff of the Jimmy Carter National Historic Site extended a special invitation to Peanut Brigaders, campaign workers and supporters of the 1976 presidential election of Jimmy Carter, to join us on January 20, 2009 in commemoration of the inauguration of the 39th President of the United States. They were recognized as part of a special event at the Plains High School Museum.
The event began at 10:00 am and included a special presentation by Dr. Harold Isaacs, history professor at Georgia Southwestern State University and author of Jimmy Carter's Peanut Brigade. After the presentation, Dr. Isaacs and members of the Peanut Brigade shared memories of the "grass roots" campaign that helped elect the 39th President of the United States, Jimmy Carter.
A special exhibit featuring inaugural and Peanut Special memorabilia is on display until January 27, 2009. The program was followed by a reception with light refreshments, a cake was especially made for the occasion and a live broadcast of the inauguration of the 44th President of the United States, Barack Obama, that was viewed by students from Sumter County Schools Early College and other visitors.