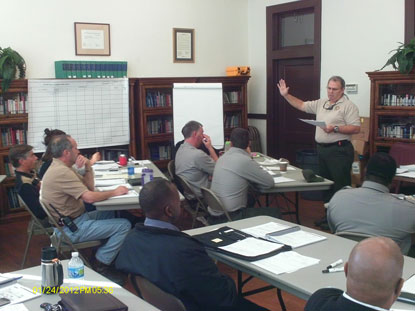 News Release Date:
February 17, 2012
Contact: Amy Hite, 229-824-4104
Contact: Gabe Laster, 229-824-4104
The Jimmy Carter National Historic Site hosted training in ICS 300/400, a 40 hour, classroom-based, multidiscipline or multijurisdictional course intended for front-line personnel with supervisory responsibilities, such as incident commander or planning section chief. The class was held the week of January 23 to 26, 2012. The Incident Command System (ICS) provides a scalable, standardized methodology for organizing and managing resources and overall responses to incidents.
The Incident Command System (ICS) is part of the framework of the National Incident Management System (NIMS), which provides a consistent framework for entities at all jurisdictional levels to work together to manage domestic incidents, regardless of cause, size, or complexity, and includes a core set of guidelines, statements and protocols for command and management preparedness, resource management, communications and information management, supporting technologies and management.
Several federal, state, county and local agencies participated in this training and were educated on the various levels, techniques and protocols of ICS. The students took part in several lesson scenarios that were used to enhance the training materials. The instructors for the class were Mark Ruggiero, National Park Service Southeast Region Emergency Services Coordinator, Jim King, National Park Service Southeast Region Structural Fire Management Officer and Gary Rice, Georgia Emergency Management Agency Region Two Coordinator.