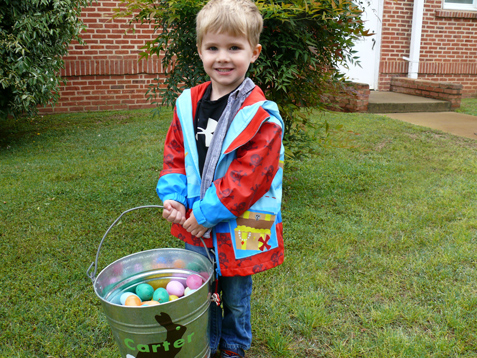 News Release Date:
March 12, 2015
Contact: Steve Theus, 229-824-4104
The staff of the Jimmy Carter National Historic Site (JCNHS) would like to invite you to attend our Second Annual Easter Egg Hunt on March 28, 2015 at 10:30am. This festive, kid-centered event will take place at the Jimmy Carter Boyhood Farm located in nearby Archery, Georgia.
This is the second year that the JCNHS has hosted the Easter Egg Hunt. Last year, over sixty-five visitors attended and the children enjoyed searching for the 1,200 plastic eggs that were hidden. The children were excited to discover that special eggs contained surprises such as "golden" certificates for free peanut butter ice cream or even candy.
This year, the hunt will be divided into three (3) age group categories: (1) 3 and under, (2) ages 4-7, and (3) ages 8-12. Participants will then be allowed to hunt for the eggs in locations specified for their age grouping.
Guests of the event are encouraged to continue their day's activities by further exploring the boyhood home of President Jimmy Carter. Visitors are welcome to walk the same paths as a young jimmy Carter would have once traversed. Walking tours of the farm, led by park staff, will be available at 11:30am and 3:30pm. Ranger Kevin Alexander will also be blacksmithing later in the afternoon , from 1:30pm until 3:30pm.
To pass your time after the egg hunt, we encourage you to explore both Plains High School and the Plains Depot. The former was where both President and Mrs. Carter attended school until their graduation in the eleventh grade. It currently serves as a museum as well as the visitor center for the JCNHS. The Depot, aside from being the oldest building in Plains, built in 1888, also served as Jimmy Carter's 1976 Presidential Campaign Headquarters. Currently if houses an exhibit dedicated to an exploration of the Presidential Campaign. Also, be sure to ask the Ranger on duty about the park's Junior Ranger Program.