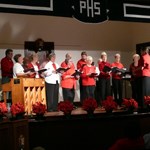 Superintendent Gary Ingram is pleased to announce the annual Plains Community Christmas Sing on December 1, 2013 at 6:00 p.m. at the Jimmy Carter National Historic Site.
The event is sponsored by the National Park Service and the Plains Christmas Committee. The evening will be filled with presentations from local church choirs and will conclude with a performance by the Georgia Southwestern State University Chamber Singers.
We invite you and your family to join us at this community musical event filled with the joyous sounds of the holiday season.