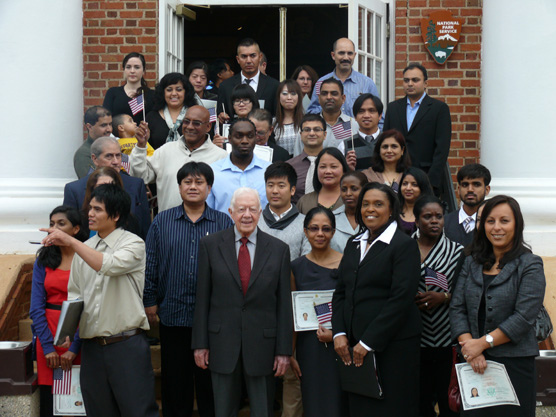 News Release Date:
January 10, 2013
Contact: Gabe Laster, 229-824-4104 ext. 41
A citizenship ceremony was held at the Jimmy Carter National Historic Site inside the auditorium of Plains High School on January 10, 2013. This is the first year that the ceremony was held at the park which honors the 39th President of the United States, Jimmy Carter.
The ceremony was co-sponsored by the U.S. Citizenship and Immigration Services (USCIS) and the National Park Service (NPS). Thirty-four applicants from eighteen countries took the oath of allegiance in the building where Jimmy and Rosalynn Carter both attended and graduated in 1941 and 1944 respectively.
Other than the thrill of becoming a citizen of the United States, the highlight of the program was the keynote speaker. What better was to be welcomed as a new citizen than to share this moment with President Jimmy Carter? President Carter offered remarks and words of encouragement to those on hand and challenged them not to just sit by but to become an active part of the American way of life. The ceremony ended with all participants having the opportunity to walk across the auditorium stage and shake hands with President Carter who also remained until after the ceremony for a group photo.