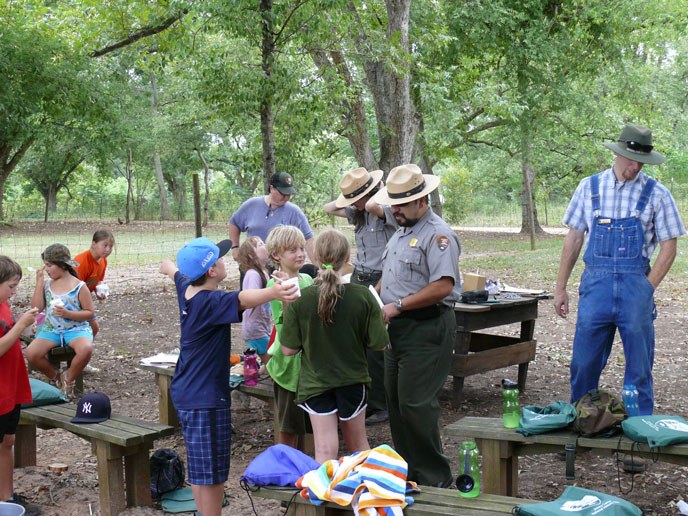 News Release Date:
May 2, 2013
Contact: Natasha Wood, (229) 824-4104 ext.47
Contact: Patty Kuehn, (229) 824-4104 ext. 40
The Jimmy Carter National Historic Site will be hosting two 4day Summer Camps for children grades 3-7. Participants will have theopportunity to learn all about what it takes to be a Park Ranger with theNational Park Service while also having a lot of fun.
The camps will focus on a variety of National Parks,Seashores, Monuments and Historic Sites within the National Park Service. TheJimmy Carter National Historic Site hopes to both offer interesting informationabout all of these amazing places, and also to spark a lot of curiosity in thekids to learn and see more. A series of daily activities will be offered in theareas of recreation, community service, science, history, and art. Throughthese daily activities, the site will emphasize: (1) Places within the NationalPark Service, including the Jimmy Carter National Historic Site, (2) the manyresponsibilities of being a Park Ranger, and (3) different ways to take goodcare of National Parks, nature, and ourselves.
Activities will be held at the Plains High School and theJimmy Carter Boyhood Farm. Each child is asked to bring a sack lunch andcomfortable clothing. The camps will be held during the weeks of June10-13,2013 and July 15-18, 2013 and is open to children in the 3rd-7thgrades.For more information andregistration, please contact Natasha Wood or Patty Kuehn at 229-824-4104. Registrationis open until June 1st, and there is a limit of 20 participants.