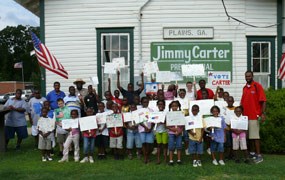 Eight programs will be developed and presented to students of the Jimmy and RosalynnCarterCenter of the Boys and Girls Clubs of America. These programs will educate students about the National Park System, former President Jimmy Carter, the differences and similarities of Plains, Georgia both past and present, and to teach about the early Carter family farming history and techniques that were an integral part of President Carter's childhood. These programs will include park visits, Ranger talks using interactive methods with period farming tools, and hands on demonstrations.
The programs will consist of pre-site Ranger visits to the center, student visits to the park and Ranger post-site visits. At the pre-site, orientation quizzes about Jimmy Carter NHS will be administered to measure the student's knowledge and understanding of the site's significance. During the post-site visits, we will re-administer the quizzes to measure how much impact the visit had on the students and how much they may have learned. With President Carter being an avid writer, each student will write a short essay about the visit with materials provided by the park.
With the development of this program, Jimmy Carter NHS will establish its first formal partnership with the Jimmy and RosalynCarterCenter of the Boys and Girls Clubs of America. Through the creation of an educational partnership with the Boys and Girls Clubs, Jimmy Carter NHS will reach more than 300 children during the summer program and open doors for additional children throughout the school year.