Date:
May 17, 2013
Contact:
Steve Theus
, (229) 824-4104 ext. 42
Contact:
Patty Kuehn
, (229) 824-4104 ext. 40
Contact:
Gabe Laster
, (229) 824-4104 ext. 41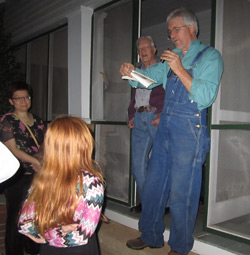 Tis the season, as the saying goes. And what better way to start off the Christmas season than with a candlelight tour of the Jimmy Carter Boyhood Home? On December 14, 2013, the staff of the Jimmy Carter National Historic Site will be dressed in period attire and will offer guided tours through the decorated Boyhood Home of the 39th President of the United States.
Bring the family and come stroll through the Boyhood Home and see the decorations created by the residents of the Sumter County Retirement Center in Plains, listen to interpreters as they present memories from President Carter's childhood and how these memories still hold special meanings to him and see if you can catch the Christmas Spirit.
The guided tours will begin at 6:30pm and end at 8:00pm and will last about 45minutes. Registration for the event is limited to 20 people per group, per time slot. Time slots can be reserved by calling the Jimmy Carter National Historic Site at (229) 824-4104 ext. 17.