President's Day with Theodore Roosevelt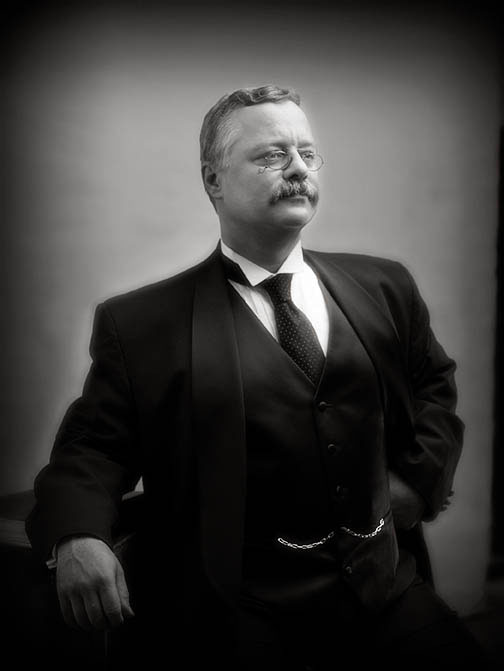 News Release Date:
January 16, 2013
Contact: Steve Theus, 229-824-4104 ext. 42
The Jimmy Carter National Historic Site invites you to a Presidents' Day Celebration full of history, artifacts, and a visit from the great Rough Rider President, Theodore Roosevelt.
On February 18, 2013, we will begin our Presidents' Day Celebration with a discussion of presidential memorabilia by Dr. Laurence Cook of Cook and Cook Antiques and Home Furnishings, Inc. and Cook and Cook Estate Liquidators of Plains, Pennsylvania. He has been invited to lecture several groups on the various aspects of presidential history.
Dr. Cook has been a lifelong collector of presidential memorabilia and a subsequent presidential historian with an expansive collection of Theodore Roosevelt campaign and presidential material. The lecture entitled Amazing Presidential Facts, Coincidences and Unique Relationships will begin at 11:00am in the auditorium. It will cover interesting facts on each President from George Washington to Barack Obama. After the lecture, Dr. Cook will be on hand to answer questions on his collection and autograph his new book "Presidential Coincidences, Amazing Facts and Collectables" which will be on sale in the bookstore at Plains High School.
We will also have as our very special guest, the Rough Rider President, Theodore Roosevelt. Joe Wiegand is regarded by many as the nation's premiere Theodore Roosevelt reprisor. He brings T.R. to life with an unparalleled grasp of history and an uncanny way of quickly convincing the audience that they are in the company of Theodore Roosevelt. As Theodore Roosevelt, Wiegand shares stories from a lifetime of service and adventure, ranging from cowboy excitement in the Dakotas to the charge of the cavalry up the heights of Santiago de Cuba. The audience can join T.R. on an African safari and an exploration of Amazon River jungles and hear tales of building the Panama Canal, a modern Navy and a vibrant conservation movement.
Joe Wiegand is a graduate of political science from the University fo the South in Sewanee, Tennessee, and a former graduate assistant at the Center for Governmental Studies at Northern Illinois university in DeKalb, Illinois. He is a Harry S. Truman Scholar, a Thomas Watson Fellow and an active member of the National Association for Interpretation and Rotary International. In 2008, he celebrated Theodore Roosevelt's 150th birthday with a national tour that was highlighted by performances at the White House and T.R.'s birthplace in New York City. Mr. Wiegand completed a fifty state itinerary entertaining thousands and visiting hundreds of places associated with Theodore Roosevelt's life and legacy. More information about Mr. Wiegand and the T.R. Tour is available at www.teddyrooseveltshow.com.
Last updated: April 14, 2015