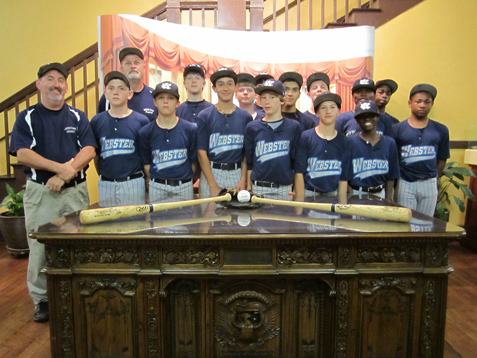 News Release Date:
March 3, 2015
Contact: Steve Theus, 229-824-4104 ex. 42
Contact: Patricia Kuehn, 229-824-4104 ex. 40
The Jimmy Carter National Historic Site (JCNHS) would like to invite you to break out the picnic baskets, the comfortable lawn and folding chairs, and come out to view America's Favorite Past-Time at its finest. The spirit of America's Game will be on display as the JCNHS hosts the 5th Annual Peanut Classic. This two-day baseball tournament, to be held on March 13 and 14, 2015, on the restored baseball field located at the Plains High School (PHS) Museum, is a wooden bat tournament that features local area middle school teams. The games are scheduled for 2pm and 4pm on Friday, March 13, and the first game will begin at 9am on Saturday, March 14.
The tradition of PHS and sporting events is expansive. President Jimmy Carter fondly recalls the importance both sports and PHS played during his youth, baseball being a particular favorite of his and his fellow playmates.
The restored baseball field provides a wonderful location for community members to come together and enjoy America' favorite past-time as well as experience a sense of community not unlike that which President and Mrs. Carter experiences during their youth. The event is free and open to the public. We also encourage guests of the baseball game to experience the JCNHS to its fullest by visiting the other sites such as the Boyhood Farm, PHS, and the Train Depot. We hope to meet you there. To take a leaf from the book of one of President Carter's most memorable teachers, Miss Julia Coleman, who knows, there may be a future Hall of Famer at the plate. The staff of the JCNHS looks forward to meeting you on the baseball field.