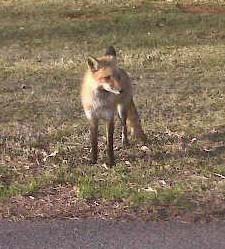 The Jimmy Carter National Historic Site offers visitors the ability to go back in time to the 1930's. There are many buildings at the Boyhood Farm that remind people how it was during the Great Depression and how life was on a farm during that time.
The Boyhood Farm is open and visitors must remember that even though the site has some livestock and other animals (cats and peafowl), there are wild animals in the area also. Recently a fox has been observed approaching humans and frequenting areas around the trails and the buildings of the Jimmy Carter National Historic Site Boyhood Farm.
Foxes are wild, unpredictable animals and should be treated as such, even if they appear tame and unafraid. The National Park Service discourages and sort of human interaction with foxes. These actions can cause foxes to lose their natural fear of people, becoming bolder and more agressive towards humans.
The park's rules and regulations function to protect people, pets and wildlife.
• Refrain from feeding wildlife of any kind in the park.
• Please ensure that your garbage receptacles are securely closed.
• Observe wildlife from a distance. Neither adults nor children should approach or feed wildlife.
If you are a pet owner:
• Keep your pet on-leash and supervised when it is outdoors.
• Always feed your pet indoors.
Please report any sightings of the fox to park staff. Your sightings are valued, but please do not go out of your way to "find a fox."