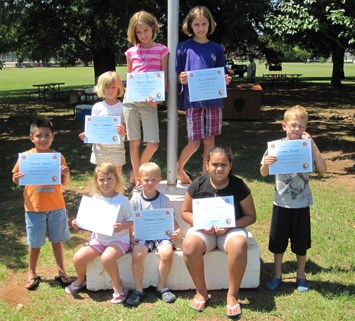 Searching for activities for your children to participate in on Saturday June 30, 2012? Consider a visit to the Jimmy Carter National Historic Site for our Children's Independence Day Celebration and our Junior Ranger Day. A day full of fun and activities geared towards the young and the young at heart.
Begin the 4th of July celebration in Plains, Georgia with a patriotic children's parade on Saturday, June 30. All children ages 1-17 are invited to join in showing patriotism for our country by decorating a stroller, bike, wagon or scooter. Parade contestants may pre-register by calling 229-824-4104. Those pre-registering will receive a free flag. All parade contestants should be at Plains High School by 9:45 AM on June 30 to sign up for the contest if not pre-registered. The parade will begin in front of Plains High School Museum and circle the grounds for judging beginning at 10:00AM. Young children may be accompanied by an adult during the parade. Judges will look for best use of red, white, and blue in their decorations, display of the American flag and creativity. The Best of Show in each age group will win a prize. All children will be rewarded for their efforts with fun and games after the parade.
Immediately following the parade, Jimmy Carter National Historic Site park rangers will present a cycling tour of Plains, Georgia. All families are encouraged to join us. The tour will begin at Plains High School at 11AM and conclude at 12:30PM. The tour will start with a brief history of Plains High School and the Jimmy Carter National Historic Site. The second stop will be Lillian Carter Nursing Home. From there we will venture to downtown Plains exploring its fascinating history, which includes the storefront area and the train depot. After touring the depot, riders will be lead to the Carter Compound viewing area and a park ranger will briefly tell about the home and the Carter Compound. Our next stops will be Apartment 9A and Maranatha Baptist Church concluding at Plains High School.
Come and join the staff of the Jimmy carter National Historic Site as we celebrate Junior Ranger Day on June 30, 2012. There will also be a scavenger hunt in Plains and at the Boyhood Farm, to encourage children to learn more about our 39th President of the United States, Jimmy Carter. Demonstrations will be performed by park rangers in "period dress" at the Boyhood Farm. This event is being held in conjunction with the SAM Shortline Excursion Train. Upon completion of the scavenger hunt/activity sheet, children will receive a special Junior Ranger patch, a Jimmy Carter National Historic Site Junior Ranger badge, and other prizes and surprises.