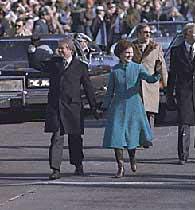 "In this outward and physical ceremony we attest once again to the inner and spiritual strength of our Nation. As my high school teacher, Miss Julia Coleman, used to say: "We must adjust to changing times and still hold to unchanging principles."
Jimmy Carter's Inaugural Address- 1977
Americans have witnessed the inaugural ceremonies of America's Presidents and Vice Presidents since the first inauguration of George Washington, in New York City, in 1789. With the inauguration of each new President and Vice President comes a view of hope, a sense of pride in the American dream, and a glimpse into the history and future of America.
The National Park Service is just one agency involved with Inaugural events and the planning for this historic event. Please be sure to visit the National Park Service website and other websites we have linked with for a comprehensive review of the range of opportunities available. This National Park Service will be updated regularly in an effort to make available the most up-to-date information. Because of the scope of this event and the evolving nature of some of the planning involved, the information provided here is subject to change. Please visit often and contact us if we can provide additional assistance.
The Jimmy Carter National Historic Site will be hosting an Inaugural Day Event at the Plains High School Museum/Visitor Center on January 20, 2009. The event will be attended by some who traveled to Washington D.C. aboard the "Peanut Special" from Plains, Georgia, to attend the ceremonies in 1977. The "Peanut Special" was the name of the train that residents of Plains, campaign workers and Peanut Brigade members chartered for the trip to the inauguration. The guest speaker for the event will be Dr. Harold Isaacs, Professor of History at Georgia Southwestern State University, and author of "The Peanut Brigade."
Make plans to visit the Boyhood Farm at the Jimmy Carter National Historic Site soon for a historical glimpse into the community that raised a President. Click the links to check on upcoming events, field trip information and reservations, or call the historic site at (229) 824-4104 for additional information. There is no charge to visit the Jimmy Carter National Historic Site.