Professional Development
Selected teachers spend the summer working as park rangers, often living in the park. They perform various duties depending on their interests and the needs of the park, including developing and presenting interpretive programs for the general public, staffing the visitor center desk, developing curriculum-based materials for the park, or taking on special projects.
All Teacher-Ranger-Teachers
Join in the Experience!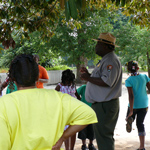 Join in the Experience!
Learn More
The National Park Service works with partners to offer a variety of teacher workshops. Most of the professional development opportunities offer re-certification or other continuing education credit. The workshops are as varied as the parks in which they occur, but all stress interdisciplinary participatory learning, and strive to connect your curriculum goals with the park stories and resources.
All Teacher Workshops
Teacher Workshops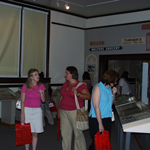 Teacher Workshops
Learn More
Last updated: April 14, 2015