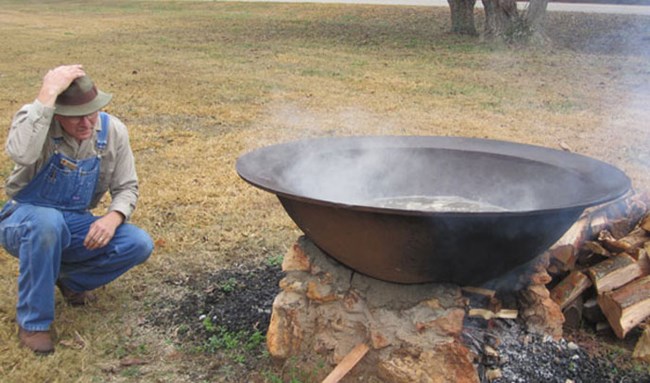 Have you ever wondered how the yummy, sticky concoction called Cane Syrup is made? Ever wondered about the workings of a rural farm in Southwest Georgia during the Great Depression? If you answered yes to any of these questions (or no for that matter) come on out to the Jimmy Carter Boyhood Farm for our Cane Syrup Day! The Jimmy Carter National Historic Site (JCNHS) is pleased to announce the celebration of Cane Syrup Day, Saturday, November 21, 2015. Demonstrations will be presented throughout the day between 10:00 a.m. and 3:00 p.m..
The event will highlight cane syrup making in the 1930's as well as offering visitors a representation of the life experienced by a young Jimmy Carter. Demonstrations will include cane stripping, cane squeezing, syrup making, corn shelling, and blacksmithing. Also, members from the Southwest Georgia Tractor Club and the Pike County Tractor and Engine Club will have antique tractors and engines on display. Representatives from the National Railcar Association will be showing antique rail inspection cars. Plowing with mules and other mule demonstrations will be available, and Earl Carter's Commissary will be open so that visitors may purchase cane syrup and other novelties.
Visitors to the Boyhood Farm will enjoy watching the park staff feed freshly cut sugar cane into a mule-driven cane press. Once the cane is in the press, it then passes through rollers which extract the juice. This juice is then boiled down over a hot fire until it turns into the sticky substance know as cane syrup. Cane Syrup Day is free and open to the public.