Wetlands Acadian Cultural Center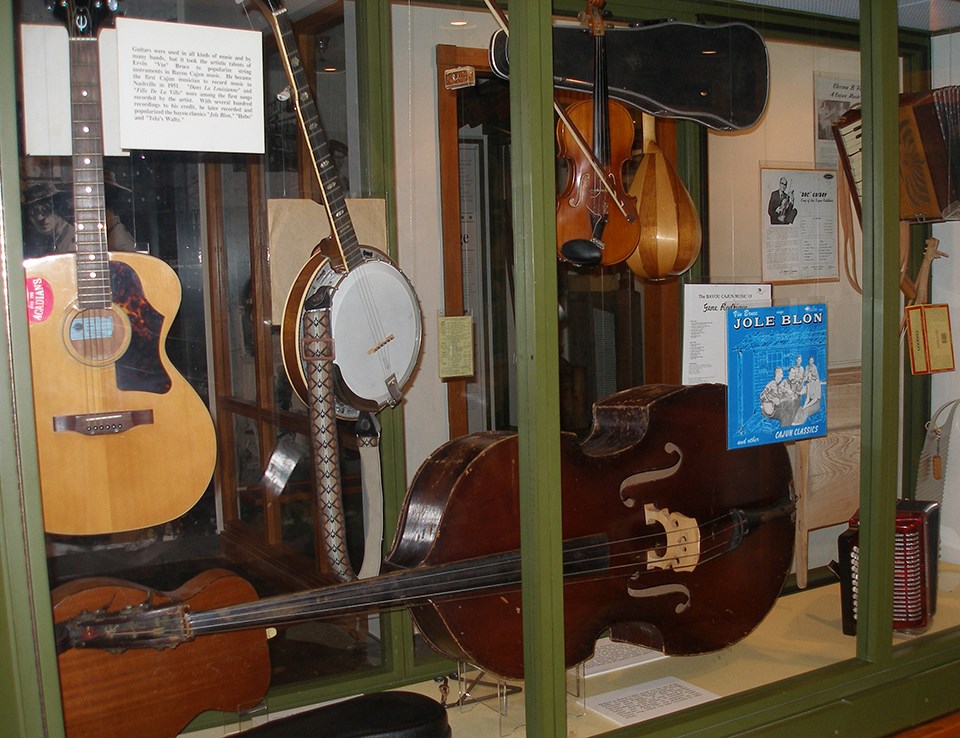 WHAT"S HAPPENING:
Special Exhibit - "Louisiana through the Eyes of an Artist" Bert Andry is an award-winning artist with a particular passion for watercolors. Exhibit on view through Wednesday, July 31. Free.
Monday Night Music - 5:30-6:30 p.m. every Monday (no music on federal holidays when center is closed). Discover the wide range of south Louisiana's music: zydeco, gospel, blues, jazz, Cajun, and more. Free. If you have suggestions or requests for performers,
email the park
. Scheduled performers are
June 3 - Tet Dur (swamp pop)
June 10 - Cajun Music Preservation Society (Cajun)
June 17 - Sarah Jade Williams (Cajun)
June 24 - Andrea Rhodes (gospel)
Understanding Bayou Lafourche Canoe Trek - 9:30-11:30 a.m., Saturday, June 22. Join park staff to discover summer on Bayou Lafourche from the water and take a closer look at the plants, animals, and water that are part of its ecosystem. This workshop is designed for adults 18 and older who are interested in learning more about observing and collecting information about a specific ecosystem. Canoes and life jackets are provided. The trek is free, but space is limited, so reservations are required; email the park or call 985-448-1375 to reserve your spot. Here's a pdf ot the Understanding Bayou Lafourche Canoe Trek flier to download, print, and share.

Share Your Stories - 10:00 a.m.-noon every Monday. Join Lafourche Parish Library staff, park rangers, and park volunteers to share your stories of life along Bayou Lafourche. The goal of the Share Your Stories project is to buld a collection of recorded stories that will be housed at the library for future historians and to encourage present-day thought and conversation. Free. At the Thibodaux Branch Library, 705 West Fifth Street, Thibodaux.
Cercle Francophone - 5:30-7:00 p.m. every Tuesday. Come pass a good time speaking French (Cajun or otherwise). Help keep French alive in Louisiana---and if you don't speak French, come on along to watch linguistic history in action. No Cercle on federal holidays or on Mardi Gras (Tuesday, March 5, in 2019) when center is closed. Free.

Historic Thibodaux Walking Tour - 10:30 a.m. every Monday, Tuesday, and Wednesday. Join a ranger for a walk through downtown Thibodaux and hear the stories of its past. No tour on federal holidays ior on Mardi Gras when the center is closed. Free.

Boat tours on Bayou Lafourche - Cruise into Louisiana's past on a ranger-guided boat tour during the spring and fall. Destinations, dates, times, and ticket information at the link.

Citizen science programs, training, and events - Join the team to learn about the world around you, record your observations, and share them to assist with scientific research.

Summer camps - sorry, all camp sessions are full. See you next year!
The lives of the Acadians (Cajuns) and others whose travels brought them to Louisiana's bayous are featured at the Wetlands Acadian Cultural Center in Thibodaux. Explore recreation, clothing, home furnishings, religion, cuisine, and fishing through exhibits, artifacts, videos, and films. A 200-seat theater is used for productions by the Thibodaux Playhouse, Inc., and other programs. Kids can earn a badge with the Junior Ranger program. The center's museum store has CDs, craft items, and books from cookbooks to children's stories on sale. Admission to the center and to most programs is free. Follow these links for the park's calendar of events, exhibits, and programs; for directions and transportation options; and for accessibility information.
314 St. Mary Street, Thibodaux
985-448-1375
Open Monday-Tuesday 9:00 a.m.-7:00 p.m. and Wednesday-Friday 9:00 a.m.-5:00 p.m. Closed on federal holidays and Mardi Gras (Tuesday, March 5, in 2019). Useful information about public transportation, regulations on pets, etc., is available here.
Special programs by reservation:


Last updated: June 4, 2019