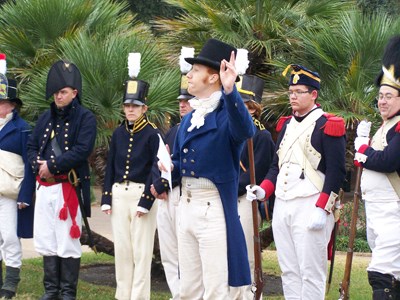 As the invading British army approached New Orleans in late 1814, Major General Andrew Jackson assembled his troops on the Place d'Armes - the open square at the center of town. Jackson's men were soldiers, sailors, and marines from the US armed forces. They were Tennessee and Kentucky state volunteers, and they were French Creoles, free African Americans, Choctaw Indians, Spanish-speaking Islenos, and privateer smugglers from the swamps of Barataria.
Assembling this diverse group of defenders gave General Jackson the opportunity to tell them all at once why they should unite to fight for the American cause. There was only one problem: the general couldn't speak French. Jackson's aide-de-camp, a local lawyer named Edward Livingston, addressed the crowd in English and French and made a compelling argument that they should put aside the differences of culture, language, class, and race and unite against a common enemy in defense of their homes.
On Wednesday, January 7, 2015, at 11:00 a.m. the National Park Service will recreate this historic assembly. Living history reenactors representing the full diversity of the New Orleans defenders, will fill the square just as they did 200 years before. From the balcony of the Cabildo, actors portraying General Jackson and Edward Livingston will deliver the same address that was performed to rouse the troops to their eventual victory at Chalmette Battlefield.
Today the Place d'Armes is called Jackson Square in honor of the leadership of the general who led America to victory at the Battle of New Orleans.