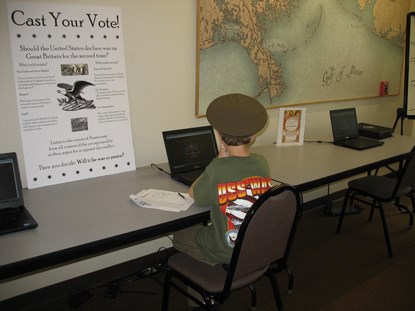 Louisiana became America's 18th state on April 30, 1812. On June 18, about six weeks later, the United States declared war on the British Empire.
In June, 2012, park rangers and volunteers gathered to commemorate both 200 years of Louisiana statehood and the start of the War of 1812. Camping, cooking, historical leisure activities, military marching, and musket firing recreated the feeling of excitement on entering the Union and the uncertainty of a future at war.
Park visitors were invited to connect to a website where they could view animated videos of Americans making the case for or against war in 1812. Then they cast their votes online in a nationwide survey. When the votes were counted, Americans in 2012 narrowly decided they were in favor of going to war, just like 1812.