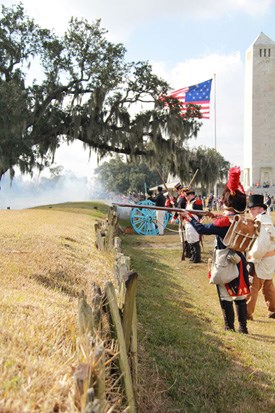 America's War of 1812 actually lasted for two and a half years. It spanned 1812 and continued through 1813, 1814, and some of 1815. People and places around the world began commemorating the War of 1812 on June 18th, 2012, the 200th anniversary of America's declaration of war.
Observances at Jean Lafitte National Historical Park and Preserve marked the beginning of the war and will continue through 2015, culminating with the bicentennial of the Battle of New Orleans - the last major engagement of the war - at Chalmette Battlefield. Follow the links below to learn more about how Jean Lafitte has contributed to the worldwide remembrance of America's "Forgotten War," and what events are still to come.
April 2012: Tall Ships in New Orleans
June 2012: The War Begins, and Louisiana Becomes a State
September 2013: Re-dedication of the Chalmette Monument
UPCOMING EVENTS:
September 6, 2014: "Lafitte's Choice: A Pirate Takes Sides in the War of 1812"
January 7, 2015: "To the Embodied Militia" - An historic address to the defenders of New Orleans on Jackson Square