2021 Barataria Preserve Summer Camp Information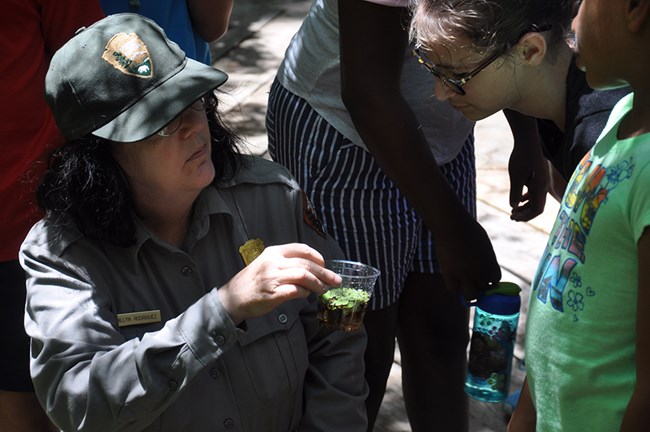 Wonders of the Wetlands Summer Camp
Campers will learn about wetlands and how to protect them at Barataria Preserve in Marrero! This year, your child will enjoy a one-day summer camp, where they will learn about wetlands and everything that calls it home. Different from previous years, camp will not be divided by age group, and will not be week-long. Instead, each day will be scheduled a different "social pod" which could be a family group, school cohort, or Girl/Boy Scout group with a max of 10 campers per day between the ages of 6-12 years old.
From 8 am to 3:30 pm on a Monday, Tuesday, Wednesday, or Thursday in June (orange days with **), the camper group will come to Barataria Preserve to enjoy a one-day camp. Then on Friday (blue and underlined days), they can fully immerse in the swamp with a canoeing trip. If the child is less than 9-years old, then a parent or guardian will need to accompany them. Camp this year will be FREE.
At 8 am on Saturday, May 1st, registration begins online here. You will need to select your top three days for camp and accompanying canoe day, and will need the names and ages of all campers you want to be in your camp cohort. Mixed ages are fine, as long as campers are between 6-12 years old. YOU MAY NOT BRING APPLICATIONS TO THE VISITOR CENTER THIS YEAR. Once your day is confirmed, the park will reach out and get more information from you about each camper. If you have questions, please email the park.
| | | | | |
| --- | --- | --- | --- | --- |
| | | JUNE 2021 | | |
| Monday | Tuesday | Wednesday | Thursday | Friday |
| | 1** | 2** | 3** | 4 |
| 7** | 8** | 9** | 10** | 11 |
| 14** | 15** | 16** | 17** | 18 |
| 21** | 22** | 23** | 24** | 25 |
| 28** | 29** | 30** | | July 2 |
Last updated: May 1, 2021