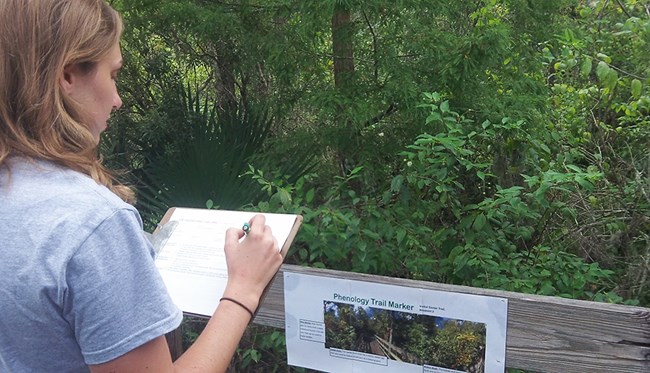 What's citizen science? It's ordinary people making observations, collecting data, and helping researchers answer questions about Louisiana's ecosystem. It's protecting and preserving America's treasures. It's fun, it's fascinating, and it's surprisingly easy to do.

For students:
Field trips featuring citizen science projects are available at the Barataria Preserve. Programs are designed for grades 4-12 with Next Generation Science Standards and Louisiana Student Standards in mind. Students learn about preserve history and the importance of Louisiana's wetlands; groups also participate in real-life conservation and environmental issues through hands-on research projects. Field trips are free; subject choices are water quality testing and seasonal life cycle monitoring. To schedule a field trip, call 504-689-7611 ext. 14 or email the park
For adults (ages 16 and up):
Nature's Notebook

is powered by people who make note of when flowers are blooming, when trees get their leaves, or when birds migrate and then enter their observations online. The timing of these events is crucial to any ecosystem, and both scientists and casual observers have noticed that spring is arriving earlier and fall is arriving later each year. Phenology---the study of plant and animal life cycle events---is crucial to discovering how ecosystems change over time and how climate change is affecting natural systems. At the

Barataria Preserve, Nature's Notebook observers contribute to

"The Green Wave"

is a nationwide research campaign that studies deciduous trees. Deciduous trees lose their leaves each fall, and the Green Wave makes note of when leaves start to re-appear each spring. Nature's Notebook observers also contribute to the

Gulf Coast Phenology Trail

, a network of data sites that stretches from the Barataria Preserve to Grand Bay, Mississippi. The preserve staff offer a two-hour training for Nature's Notebook volunteers. To find out more, call

504-689-7611 ext. 14

or

email

the park.
Phenology Training at the Wetlands Acadian Cultural Center. What's phenology? The study of seasonal changes in the environment. Learn how to identify seasonal changes of plant species on the Bayou Lafourche portion of the Gulf Coast Phenology Trail, enter data on a website or app, and contribute to current scientific research. Free trainings are scheduled throughout the year; call 985-448-1375.